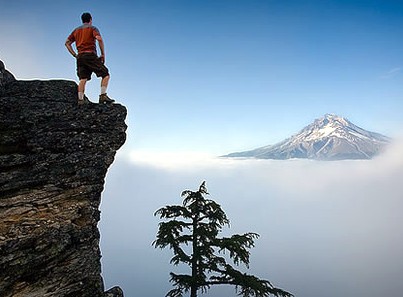 The goal of hiking is to get to the top of the mountain, getting to the peak to see as far as you can see. The journey of a thousand miles begins with the first step, but ends with a glorious view. Once you travel the distance you don't want to give up or get down. You'd rather spend all day on top cause of the work you had to put in when you were at the bottom.
With that said looking into the church at first will seem like a mammoth task. You will see the biggest mountain in your life. It will be a little rough and it will mold you into a different person. "A new heart will I give you, and a new spirit will I put within you: and I will take away the stony heart out of your flesh, and I will give you an heart of flesh."
Ezekiel 36:26
That is why you have some great people like missionaries to help you long the way. We will help you. I can say that cause I am one. If anything we are here to help you come closer to Christ.
The hike will be fun, you will have fun feeling around in the dark as the missionaries tell you to go farther, there will be a few stubbed toes, and you may run into many different obstacles. But as you continue on the path, you will be able to look back and you will see the Lord's hand guiding you and helping you along the way. Then, you will be able to reach the top of the mountain and see the view. Let me tell you, the view is amazing!